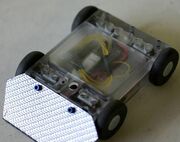 Change of Heart was a Fairyweight built by Team Misfit that competed at RoboGames 2006. It was a clear, invertible, four-wheeled wedge robot with no active weapon. Change of Heart did well, taking home the Silver Medal in its only RoboGames appearance.
RoboGames History
Edit
RoboGames 2007
Edit
Not much is known about the results of Change of Heart's first two fights at RoboGames 2007, what is known is that Change of Heart was first drawn against Crisp. Change of Heart won that fight, and went up against Micro Drive next, a fight which it won as well.
This win put Change of Heart in the finals for a rematch against Micro Drive. This fight started with Change of Heart trying to get under Micro Drive, which then managed to get Change of Heart against the arena wall. Once free Change of Heart was free, a tire rolled off of the machine, now down to three wheels Micro Drive easily pushed it out the side of the arena, meaning that Change of Heart took the Silver Medal.
Combat Record
Edit
Wins/Losses
Edit