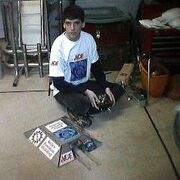 Hidden Power was a Featherweight competitor built by Team Misfit that competed in ROBOLympics 2004. It was a Silver, box wedge shaped robot armed with a combination lifter/clamping arm, around the sides of the robot were hinged skirts, designed to keep other robots from getting under it. Hidden Power did poorly in its only event, losing both of its fights.
RoboGames History
Edit
ROBOLympics 2004
Edit
Not much is known about the Featherweight competition at the 2004 ROBOLympics, in fact all that is known are the fight results, who entered, and who showed up. Because of this lack of information all that is known about Hidden Powers performance is that it lost its first fight against Kick-me Mo.
This put Hidden Power in the losers bracket where it faced Green Eye Silver Dragon. It lost this fight as well, eliminating Hidden Power from its only RoboGames appearance.
Combat Record
Edit
Wins/Losses
Edit
| Competition | Wins | Losses |
| --- | --- | --- |
| ROBOLympics 2004 | None | Kick-me Mo |