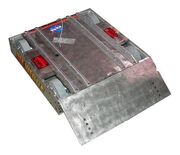 Max Wedge was a dominant Middleweight built by Team Rotordesign that competed in ROBOLympics 2004, the 2004 RFL Nationals, and RoboGames 2005. It was a Silver, four-wheeled, invertible wedge robot with no active weapons. Max Wedge did very well, winning both the 2004 RFL Nationals, and ROBOLympics 2004 as well as winning the Silver Medal in RoboGames 2005.
Robot History
Edit
ROBOLympics 2004
Edit
2004 RFL Nationals
Edit
RoboGames 2005
Edit
Combat Record
Edit
Wins/Losses
Edit
RoboGames Record
Edit
ROBOLympics 2004 - Middleweight Gold Medalist
2004 RFL Nationals - Middleweight Champion
RoboGames 2005 - Silver Medalist
Outside RoboGames
Edit
Max Wedge competed at the first two, and the last Steel Conflict events, winning the second one, and gaining its now infamous victory against Hazard in the first one.
Max Wedge also competed at BattleBots Season 5.0 under the name 64 Wedge, where it won two battles before losing to The Edge.
Max Wedge is one of only three robots in history to have defeated three time BattleBots champion Hazard, the other two being T-Minus. and Auction Block.
Honour
Robot Combat Hall of Fame (Honorable Mention 2005)