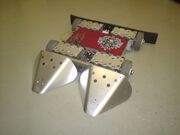 Pyromancer was a Featherweight built by Killerbotics that competed in the ComBots Texas Cup, and RoboGames 2009. It was a Red, four-wheeled, invertible robot with twin wedges at the front, a plow at the rear, and it was armed with a flamethrower. Pyromancer did very well in both of its events, going undefeated during its time at RoboGames/ComBots
Robot History
Edit
ComBots Texas Cup
Edit
There was only one other Featherweight entry for the ComBots Texas Cup, Mitch. Not much is known about this match, however Pyromancer won, and with that was the Featherweight champion of the ComBots Texas Cup.
RoboGames 2009
Edit
Combat Record
Edit
Wins/Losses
Edit
| Competition | Wins | Losses |
| --- | --- | --- |
| ComBots Texas Cup | Mitch | None |
| RoboGames 2009 | Virus | None |
Outside of RoboGames
Edit
Pyromancer also entered Mechwars 10, and the 2008 Rotunda Rumble where it went undefeated as well.
Pyromancer was originally built by Team Moon, however it never saw action under that team as for one reason or another it was sold to Killerbotics after completion.
Pyromancer never lost a battle once in its entire three year career racking up a 12-0 record before retiring after RoboGames 2009, with over half of those wins at RoboGames or ComBots.
Honour
Undefeated Robot (7 wins)