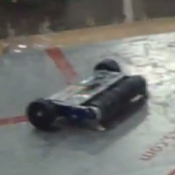 The Bomb is a Antweight robot built by Team Misfit that competed at RoboGames 2006, 2007, 2008, 2012, 2013, 2015, and 2016. It is a Silver, two-wheeled, invertible robot armed with a powerful spinning drum. Atom Bomb performed very well winning five Gold Medals, four of them consecutively.
RoboGames History
Edit
RoboGames 2006
Edit
RoboGames 2007
Edit
RoboGames 2008
Edit
RoboGames 2012
Edit
RoboGames 2013
Edit
RoboGames 2015
Edit
RoboGames 2016
Edit
Combat Record
Edit
The Bombs Win/Loss ratio for the most part is known. The only exception to this is when it entered RoboGames 2013 where record keeping for the insect classes was nonexistent. As such The Bombs RoboGames record is incomplete.
Wins/Losses
Edit
RoboGames Record
Edit
RoboGames 2008 - Gold
RoboGames 2012 - Gold
RoboGames 2013 - Gold
RoboGames 2015 - Gold
RoboGames 2016 - Gold
The Bomb vs Micro Touro in RoboGames 2015 was televised on Iranian news channel Press TV making it the only insect RoboGames match known to have ever been televised in full anywhere in the world.