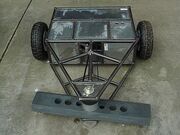 Tombstone was a SuperHeavyweight built by Hardcore Robotics which competed in ROBOlympics 2004, as well as the 2004 RFL Nationals, and RoboGames 2005. It was a two-wheeled box-shaped invertible robot armed with a large horizontally-spinning bar. It performed well in competition winning a silver medal at the 2004 ROBOLympics, and being the runner-up in the 2004 RFL Nationals.
Tombstone would later be rebuilt into a Heavyweight, and compete at BattleBots where it did very well, even winning season 2 of the ABC Reboot. Tombstone was inducted into the Robot Combat Hall of Fame in 2005.
Robot History
Edit
ROBOLympics 2004
Edit
2004 RFL Nationals
Edit
RoboGames 2005
Edit
Combat Record
Edit
Wins/Losses
Edit
Outside RoboGames
Edit
Tombstone competed at the Steel Conflict hosted Southwest Division Championships where it went 1-2. In 2004 Tombstone competed in the BattleBots sanctioned NPC Charity Open, which it won, and in 2009 after being rebuilt into a Heavyweight Tombstone competed in the 2009 BattleBots Pro Championship where it reached the losers bracket Semi-Finals. It later was further rebuilt in 2015, when it competed in season 1 0f the ABC BattleBots reboot where it was the runner-up, it would then become the champion the following year.
See Also
Edit
Tombstone (BattleBots)
Honour
Robot Combat Hall of Fame (Inducted 2005)