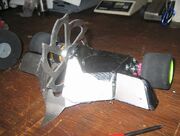 VDD was an Antweight built by Team Think Tank that competed at the 2003 RSA Holiday Games, and RoboGames 2006. It was a two-wheeled, invertible, Black, and Silver robot armed with a sawblade. Despite success in other events VDD performed decently at RoboGames, never failing to win at least one battle in each event it competed in.
Robot History
Edit
2003 RSA Holiday Games
Edit
RoboGames 2006
Edit
Combat Record
Edit
Wins/Losses
Edit
While VDD was never that successful at RoboGames, its success in other events meant that several kits were offered for sale. One of these kits VDD Kit, won the Bronze Medal in RoboGames 2005.
While the earlier incarnations of VDD fought at multiple events, VDD 4.0 fought solely at RoboGames 2006.
VDD is still around today as it Registered for the ComBots on Ice event in 2016, however it pulled out.
Honour
Robot Combat Hall of Fame (Inducted 2005)